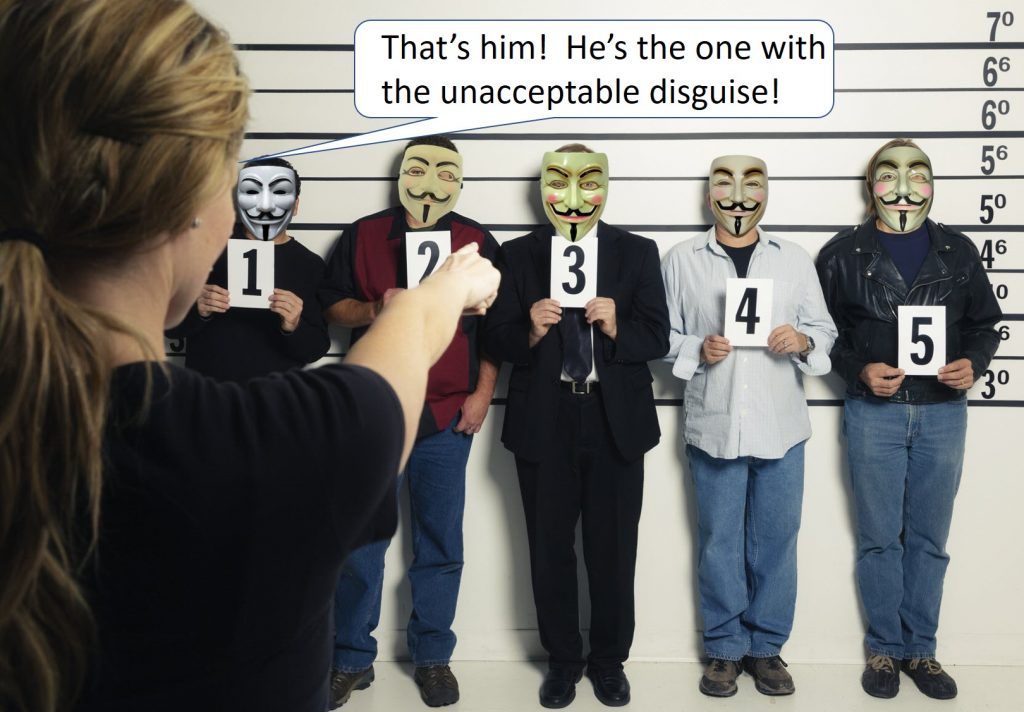 Whoever controls the media, controls the mind.
                                                 ― Jim Morrison

Imagine ESPN is televising the Arizona-Arizona State football game.  A camera zooms in on an ASU fan wearing a Sun Devil mask and, since the game is in Tucson, the announcer says, "That mask won't make any friends in that crowd!"  Suddenly, a policeman pounces on the peaceful Sun Devil fan and arrests him as ESPN cuts to commercial.  The cop declares the Sun Devil mask was "unacceptable attire" in Arizona Stadium and the fan is charged with a felony.  Could this actually happen?   Yes, if Republican State Representative Jay Lawrence has his way.
Lawrence is behind HB2007, which would make the behavior described above a felony.  It would be "unlawful for a person to wear a disguise … while participating in" four specific situations:  commission of a public offense; or during a "civil protest," "political event," or "public event."  The crime would be a class six felony unless the disguise is for a "business related purpose" or "may generally be viewed as part of acceptable attire."  The Sun Devil mask is unacceptable attire in Arizona Stadium, so take it off, or go to jail.  Wear a disguise at any public event and, if someone deems it "unacceptable," you're busted.  Lawrence, by the way, told Capitol Media Services it would be okay "if someone protesting his views or his legislation shows up at a rally wearing a chicken suit."  The fact he had to say that suggests we have gone over the rainbow.